Save time during RF setup and coordination.
Intermodulation Analysis System (IAS) by Professional Wireless Systems is a must-have for every RF engineer. IAS saves precious setup time by combining a database of wireless performance equipment and access to local television frequencies in use. This means an RF technician need only enter their current zip code and inventory the gear and frequencies in use. IAS will perform multiple calculations to find open frequencies that are free from overlapping analog and digital TV signals and intermodulation distortion. This saves tremendous time over traditional trial-and-error methods. Once a clean frequency is found in IAS, a simple pre-show equipment test will verify the software's offline analysis.
Purchase
To purchase either a Basic or Professional license, please visit our secure software license page.
To upgrade your V4 license, please log in to your Software Key license portal.
Editions:
Demo Edition

Same as Basic Edition, but Limited to 15 Days of Use

Basic Edition

Limited to 30 Coordinated Frequencies
Limited selection of Pre-built Wireless Models
No User Defined Wireless models

Professional Edition

Unlimited number of Coordinated Frequencies
All Pre-Built Wireless Models
Ability to create User Defined Wireless Models
System Requirements:
Microsoft Windows XP or higher, compatible with both 32-bit and 64-bit OSes and ready for Windows 10
Microsoft .NET Framework 4.0, available from Microsoft
Internet connection for license activation and for occasional download of FCC data. (Internet connection NOT required to use the program)
30MB available Hard Drive Space
Downloads
New in IAS 5.0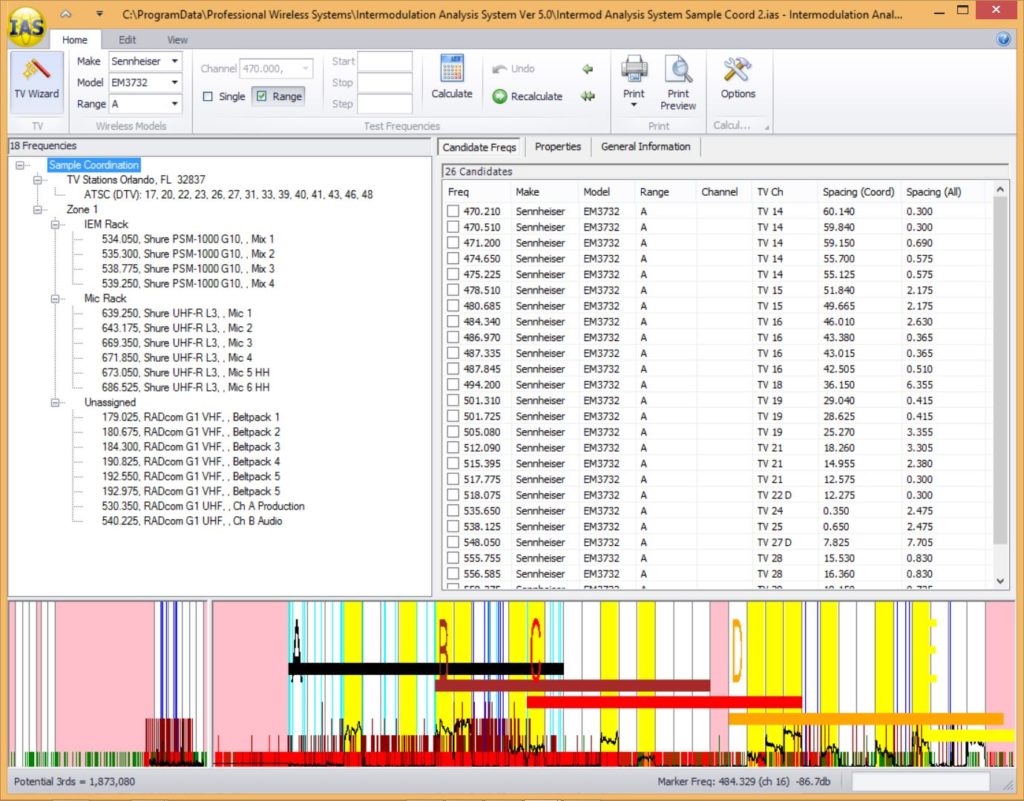 Ribbon menu tool bar enhances the user experience for touchscreens and provides easier workflow from start to finish.
Enhanced calculation features with the ability to lock frequencies from changing.
Better international support allowing users to block out restricted bands in their country.
Improved spectrum graph shows a device's tuning bands to better visualize limitations of coordinations.
IAS Features:
Database of pre-built models include channel assignments (such as group and channel information), eliminating the need to carry frequency charts for a various models of wireless systems.
Specific details also include channel assignments (such as group and channel information, eliminating the need to carry frequency charts for a various models of wireless systems.
Zone support for coordinations over large venues such as convention centers and hotels.
Effectively unlimited number of frequencies supported in each coordination (Professional Edition). Limits are imposed solely by compatible frequencies, not storage or computational ability of the software.
Improved graphical view of Frequencies, TV stations and IMD products which allows the user to find open holes and make educated decisions about the best use of the available spectrum.
Improvements and Bug Fixes in 5.0.4.0:
IMPROVEMENT: Modified the Lectrosonics models to yield more reliable candidate frequencies.
BUG FIX: Modified select model definitions with incorrect presets
BUG FIX: Having multiple country's broadcaster data downloaded would cause the TV Wizard to use the wrong country when performing a search.
BUG FIX: Under certain circumstances, files saved with v5.0.1.0 cannot be opened with later versions without an error. All users are encouraged to update to v5.0.3.0 to correct this problem.
BUG FIX: VHF DTV and NTSC channels could be set, but not un-set from the context menu.
BUG FIX: The update notification feature could be prevented from indicating that new version is available in v5.0.1.0.
BUG FIX: Using the "&" character in a unit's channel name would cause an unhandled exception.
BUG FIX: RF Sweeps would not upload if the "Location" name was too long. A character limit now verifies text entries.
---
Demonstration
---
Frequently Asked Questions
For more help, email support@professionalwireless.com