Wireless In-Ear Monitors for Rent
Wireless In-Ear Monitors are an essential aspect of any bands' performance and PWS carries the industry's best in our rental inventory.
If you have any questions or are interested in pricing please contact rentals or call us at (407) 240-2880.
PSM 1000
Bands Available: G10
Touring-Grade Design and Performance
Networked control via Ethernet connection vastly simplifies setup for high channel counts and enables remote control via Wireless Workbench software
Internal power supply with IEC in/out ports enables easy power chaining in the rack
Diversity bodypack dramatically improves signal reception and increases range
Precision front-end RF filtering reduces RF interference for a cleaner, stronger RF signal, fewer dropouts, and less audible artifacts
CueMode allows monitoring of different stage mixes and storing of up to 20 separate channels on one bodypack for quick and easy reference
Robust RF Performance and Networked Control
Up to 72 MHz Tuning Bandwidth (region dependent) provides flexibility in today's crowded and unpredictable RF environments.
Networked frequency coordination simplifies setup for high channel counts

Full bandwidth scan from the P10R bodypack receiver finds clean, compatible frequencies and provides a graphic spectrum plot viewable from the bodypack menu screen
Send the identified frequencies and spectrum plot to the P10T transmitter over IR sync
Program compatible frequency assignments from one transmitter to every other P10T transmitter on the network over Ethernet connection for vastly simplified and streamlined setup
Spectrum display provides a front-panel spectrum plot with selectable zoom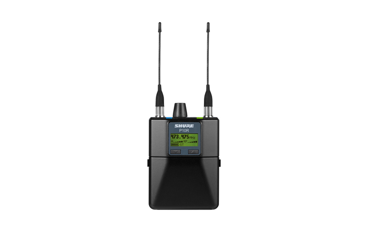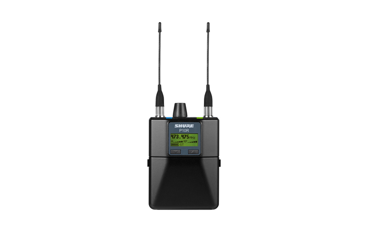 Networked frequency coordination simplifies setup for high channel counts

Full bandwidth scan from the P10R bodypack receiver finds clean, compatible frequencies and provides a graphic spectrum plot viewable from the bodypack menu screen
Send the identified frequencies and spectrum plot to the P10T transmitter over IR sync
Program compatible frequency assignments from one transmitter to every other P10T transmitter on the network over Ethernet connection for vastly simplified and streamlined setup
Spectrum display provides a front-panel spectrum plot with selectable zoom