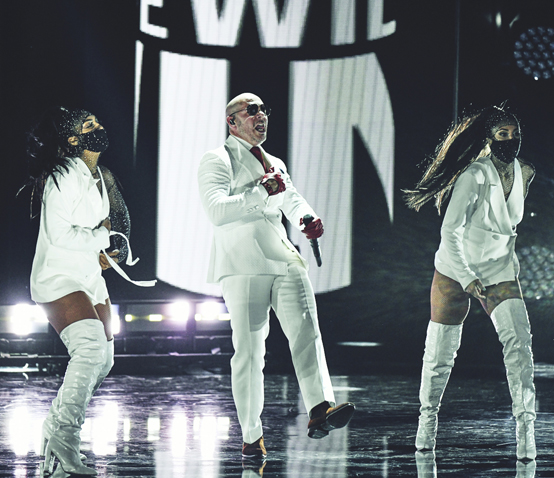 As featured in Live Sound Magazine
Univision's Premios Juventud, an awards show for Spanish-speaking performers that annually celebrates young fans' favorite artists and social stars, was the first awards show produced and broadcast in the U.S. during the pandemic, hosted in mid-August at the theatre at the Seminole Hard Rock Hotel and Casino in Hollywood, Florida. As one might imagine, the event presented a lot of "firsts" for everyone involved.
Pandemic restrictions required a rework of the entire production to create an event that would keep everyone involved safe while attempting to provide the audience with an experience on par with previous awards shows, which was no small task. Network executives worked closely with the production team to ensure that the health and safety of the talent, support crew, and production teams were protected. Show management worked for weeks to create a recording and live broadcast schedule that would keep contact and interaction to a minimum while producing a memorable event.
"We – meaning multiple departments at Univision, the folks at Professional Wireless Systems, Firehouse Productions, and the U.S. Centers For Disease Control (CDC) – worked together to combine everyone's thoughts and recommendations into a system that would work best and be most effective in this situation," says Mike Karsch, systems engineer and technical manager for Univision. "The goal was beyond full compliance. We ended up with a plan that we thought exceeded what the local, state and federal authorities required as well as a rehearsal and broadcast schedule that fit those guidelines. It was a whole new world."
MOVING FORWARD
As soon as Karsch realized the network was exploring options that would allow them to broadcast Premios Juventud, he reached out to Orlando-based Professional Wireless Systems (PWS) to see if the company was available to support the event. "We've been providing RF coordination, gear and wireless production expertise to Univision for years," explains Jim Van Winkle, general manager for PWS. "We were excited to hear that they were moving forward, and we were 100 percent on board. Because we supply and manage the majority of the wireless, our team started working on a sanitization protocol that would keep our gear sanitized while working within CDC guidelines and, more importantly, in a way that the artists would feel comfortable."
Minimizing contact among the participants was a paramount goal, starting with keeping the number of people on site to a minimum. Many artists, with minimal or zero entourages, stopped by briefly to rehearse and record their performances, and the amount of time between each act was scheduled to provide plenty of time for full sanitization of stage, general area, gear and more.
"We had to develop our own strategy knowing the workflow of our show," Karsch explains. "Luckily, we didn't have to do live performances back to back; if we did it would have required a much larger crew. Instead we spread out the production time and recorded most of the performances in advance for broadcast during the live event. Keeping the crew small also kept the circle smaller making it easier to minimize contact beyond our group."
The wireless systems team – Don Kuser (RF coordination/wireless microphones), Jason Griffith (talent A2), Kasey Gchachu (RF tech/intercoms) and John Garrido (assistant RF/intercoms) – arrived 12 days before the live broadcast. The first two days were taken up with the necessary testing and quarantine mandated by the CDC, while the rest were used to spread out the rehearsals and performances of the artists. These would be broadcast, not performed live during the show.
"Before we arrived, we set up a sanitization protocol – so once our gear was on site we put that in motion," Kuser says. "Our goal was to ensure that only one person, in addition to the artist, handled the microphones and in-ear systems. Our A2 Jason did a great job keeping that side of things organized while we were there."
Artists were encouraged to simplify their performances, i.e., fewer dancers and props meant a "cleaner" show. At the same time, the lack of a live audience was offset by LED screens showing fans and parties being held at several off-site locations during the show.
"There were nine hosts and 25 guests, which meant we had 36 separate mics – one for each person and two spares," Kuser notes. "We could not rotate mics as we've done pre-Covid. So, although it would seem to be simpler, it really wasn't. The channel count was higher than you'd think."
PUTTING IT TOGETHER
PWS relied mostly upon Shure Axient Digital X55 wireless microphone systems in the extremely crowded RF spectrum in the Miami area. The X55 operates in the STL (Studio-Transmitter Link) band which requires a license for operation, which provided Kuser some respite when band planning for the event. Meanwhile, Axient analog systems were deployed for the stage podiums and instruments, along with some Axient Digital G57 and G55 systems, as well as Sennheiser Digital 6000 systems, were on hand for artists that brought their own microphones and couldn't operate in STL. The artists supplied their own in-ear monitors, which were used with PWS-provided Shure PSM 1000 personal monitoring packs and transmitters.
"The one thing that was simplified a bit was band planning," adds Kuser. "Normally we would be dealing with various news crews that would also need wireless. Fortunately, that was not the case this year, which made things a bit easier. We had a lot of wireless to coordinate, but we didn't have to concern ourselves with much outside interference."
Intercom services were provided by a Riedel Bolero systems made up of 64 belt packs as well as two Radio Active Designs (RAD) base stations with 12 belt packs. Gchachu set up a Bolero antenna system that covered the theater, production areas and backstage while a TX/RX RAD zone ensured coverage for the RAD users.
"Anywhere there is bound to be traffic there is usually fiber," explains Gchachu. "So, if we access the network of fiber that ties together at the broadcast truck, we can drop a switch and expand Bolero coverage as needed. It is very convenient. We further expanded the intercom system with two RAD UV-1G intercom system. Since it operates mostly in VHF, it's easily added to the mix without compromising available RF."
Everyone on comms received a sanitized headset housed in a sealable zippered plastic storage bag (a.k.a., "Ziplock" bag) at the start of production and were instructed to keep the sets with them at all times and to always store them in the bag when not in use. Gchachu adds that when the packs were returned each evening they were sanitized, placed in chargers, and then sanitized again in the morning before distribution.
GREAT TO BE BACK
Sanitization was the name of the game throughout the process. The stage was fully sanitized between each performance. Multiple podiums were rotated on and off the stage so that they could be fully cleaned before being used again. The entire performance area was cleared out every few hours for a "deep clean" when the area was sprayed with disinfecting chemicals – making for an interesting workflow.
Kuser notes that the 12 days felt more like a festival than an awards show, with multiple performances every day and a constantly changing environment. "Even with all of the changes, rules and protocols it was great to be working a live production," he concludes. "There were no issues, and everyone worked together to make sure that the show was flawless, and everyone stayed healthy. It proved that you could safely provide fans with much needed entertainment – I look forward to doing it again soon."