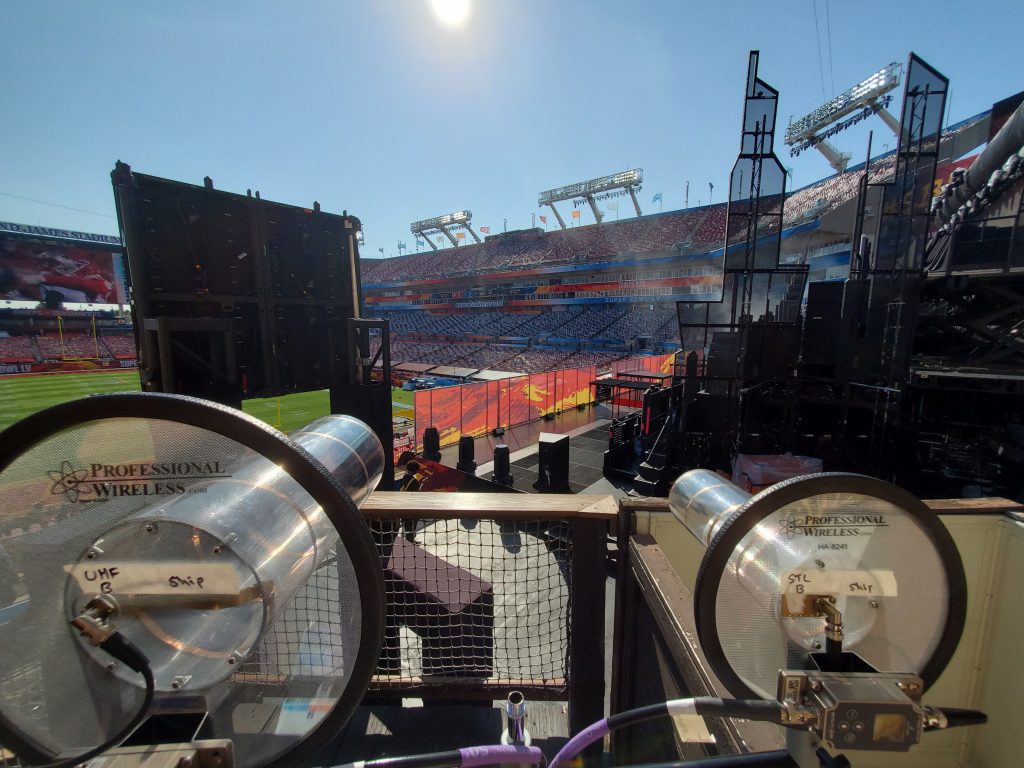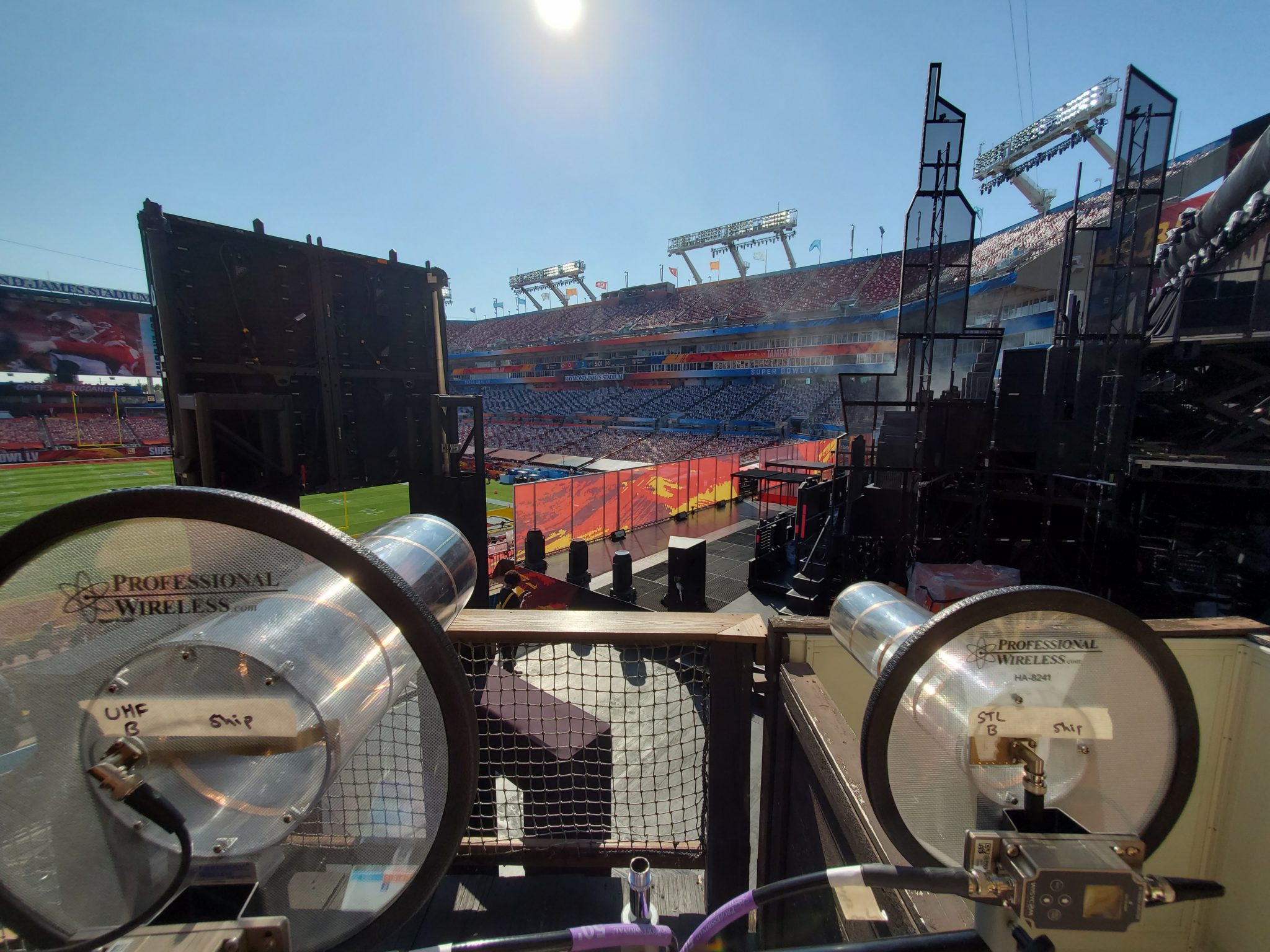 If there is anything that live sound professionals have learned over the last 12 months, it is to be flexible about artists, stage locations, required equipment, coverage needed and more. In a world where the rules can change by the minute, flexibility is key.
The Professional Wireless Systems (PWS) team experienced this need for flexibility while were preparing RF coordination and support for the entertainment portions of Super Bowl LV held at Raymond James Stadium in Tampa, Florida. ATK Audiotek, brought in once again to provide audio for this year's half-time entertainment, tapped long-time partners PWS for RF support.
"In a pre-pandemic world we would normally do a site visit in October and begin our planning then," explains Jim Van Winkle, general manager of PWS. "In mid-2020 we weren't even sure there was going to be a Super Bowl, so our planning started much later, and details trickled in slowly. Paul Liszewski, Brett Valasek and George Schwartz from ATK were in Tampa for a site survey in early December, which was when we sent Kasey Gchachu down to do an RF sweep and to see what other information he could gather while at the stadium. It was quickly apparent that we needed to be prepared for anything."
FACING LIMITATIONS
One of the restrictions of the pandemic was that PWS could only have three on-site people at the stadium with only one of them having access to the field. The goal was to minimize contact between athletes and coaches, league officials, and those on the audio and RF teams. Van Winkle managed the project from their Orlando headquarters and dispatched lead RF engineer Gary Trenda and RF engineers Kasey Gchachu and Don Kuser to the stadium to handle RF coverage for pre/post-game festivities, the halftime show featuring a performance by The Weeknd, and wireless systems for the on-field game officials. The wireless team came equipped with a full complement of RF gear from PWS, Shure, Sennheiser, Wisycom and Luminex, along with plans to implement four RF coverage zones that would be deployed once they had a firm grasp on the field layout and staging plans.
"During what's typically our pre-planning time, the design concepts for half-time entertainment were still being finalized," explains Trenda. "We knew there would be a stage and additional set pieces in the north concourse above the endzone and audience seating. There were also discussions about finishing the halftime show on field, with drawings showing different on field concepts. The production team had more available space this year and wanted to make the most of it. With plans still in flux, we essentially planned to bring what we might need for any contingency."
One of the key items they brought were modular RF over Fiber racks, designed with transmit and receive capability. These modular racks could quickly be placed anywhere RF coverage was needed.
"Our thinking was that as long as we can get fiber optic cable and power to the rack, wherever it is, then we can extend system RF coverage to that area," adds Trenda. "Using fully-equipped, pre-built RF racks eliminated any concern about the gear we may or may not need at specific location. I felt confident that we could expand our system as far as needed, as quickly as needed. It's always about being flexible, and that was especially true this year."
GETTING IT SET
The crew COVID tested before traveling to Tampa Bay, and continued with regular testing upon arrival at the stadium. After clearing the usual health and safety checks, they set up their home base located on the back side of the pirate ship, a permanent fixture located in the north concourse of the stadium. Right next door was a newly constructed three-story structure to host The Weeknd's live halftime performance that included a main stage as well as a multi-mirrored "infinity room" behind and underneath that would be utilized for a portion of the show.
The first item on the agenda was to run coax cable and antennas direct to the stage and the infinity room. The stage was equipped with a main set of antennas and a second set of send/receive antennas required for the infinity room. Next up was the deployment of two modular RF over Fiber (RFoF) racks, utilizing Wisycom MFL transceivers on the east and west sides of the field. The Wisycom MFL provides a wideband optical link for up to 4 RF channels over a single fiber – simplifying setup while facilitating redundant systems and coverage.
There were four antenna locations – two on each side of the stadium – responsible for receiving and transmitting RF. Each location had an STL band and UHF band helical antennas, along with Shure AD610 ShowLink access points. The east side also had an in-ear monitor transmit helical antenna.
"We were only permitted to have one person on field with access to the east and west side antennas," adds Trenda. "So remote monitoring and control of the equipment was essential. With Wisycom Manager controlling the RFoF equipment and Shure ShowLink controlling the transmitters, we were able to make adjustments from our main position on the concourse level."
The wireless systems for the game officials and performance of the national anthem were built from a mission-critical standpoint – the high visibility of the event allows no room for failure. "We build in as much redundancy as possible," Trenda explains. "The referee was double-mic'd and wearing two transmitters. One of the National Anthem mics was a frequency diversity handheld with the ability to transmit on two carriers at the same time. These transmitters were picked up by receivers in Quadversity mode – another way to ensure reliability."
The anthem performance, a duet by country artist Eric Church and R&B singer-songwriter Jazmine Sullivan, was held on the field close to the 20-yard line on the northwest side of the stadium. This was followed by a rendition of "America the Beautiful" by singer-songwriter H.E.R. utilizing a Sennheiser wireless system, who was located at the 50-yard line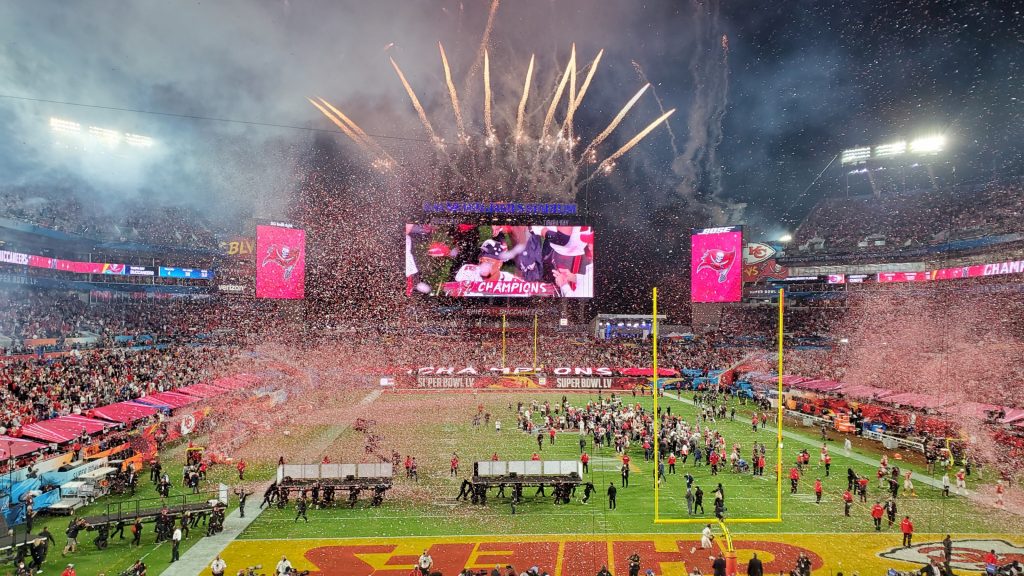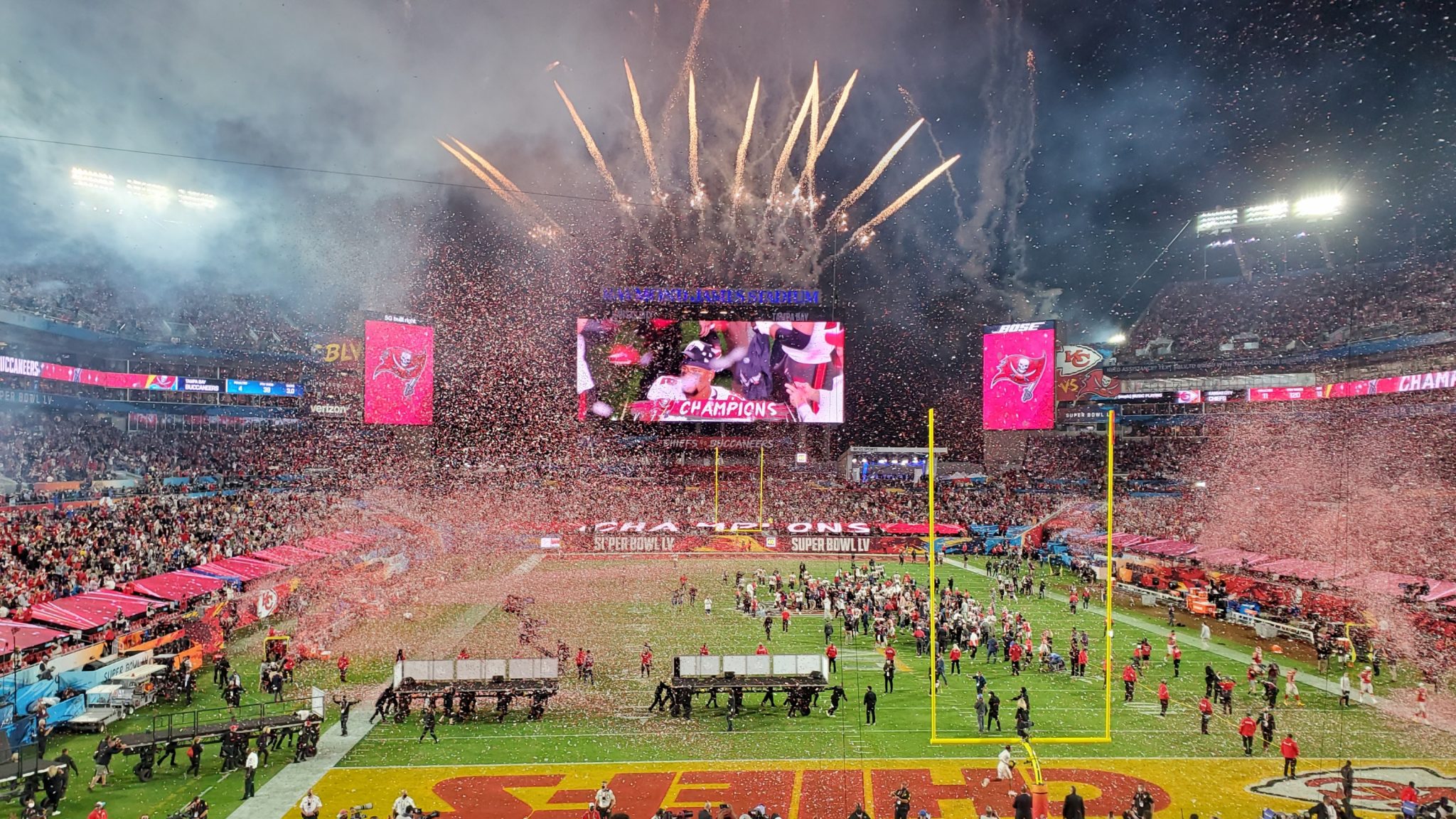 LESS CAN BE MORE
With the audience limited to around 25,000, some might assume the half-time entertainment would be equally scaled back, but that was not the case. "You have to remember that this is the Super Bowl, a sporting event that is broadcast in 130 countries and regularly seen by more than 90 million viewers," Van Winkle explains. "The entertainment is not just for the fans in the stands, it's for everyone. In this case, the extra space in the stands actually gave the producers of the half-time show even more room to work with which translated into more areas that needed RF coverage."
The Weeknd halftime performance began on stage, moved to the infinity room, and ended up on the field with 300 dancers, making it the largest area PWS has covered and supported for Super Bowl halftime show.
"It was still a very crowded RF environment," concludes Trenda. "And will continue to be. However, our bigger challenge this year was being prepared to handle any changes that might come our way. The additional space provided the production team with more options for their creative vision, and it was exciting to see what they came up with. Our job, as always, was to provide a reliable wireless deployment that helped ensure their vision could be realized. I'm happy to say we accomplished that. It's always great to work with ATK and benefit from their over 20 years of experience as the audio provider for this high-profile event."