Wireless Microphones for Rent
PWS offers a robust selection of Professional quality wireless microphone systems available for rent as complete kits down to individual elements.
If you have any questions or are interested in a rental quote please email sales@professionalwireless.com.
AXIENT
Bands Available: H4 | J5
Unparalleled audio quality by combining the most advanced analog and digital audio technology to deliver low system noise, flat frequency response and the widest available dynamic range.
World-class RF performance with extremely wide RF dynamic range and precision selectivity.
Wideband tuning

Expansive tuning bandwidth of up to 228 MHz equal to 4 transmitter bands.
Simplifies receiver inventories a single receiver covers the entire US TV band.

Interference Detection & Avoidance automatically detects interference and moves signal to a clear, compatible channel in a fraction of a second.
UHF-R compatibility ensures support for all features and functionality of UHF-R transmitters.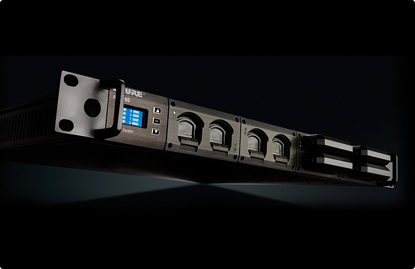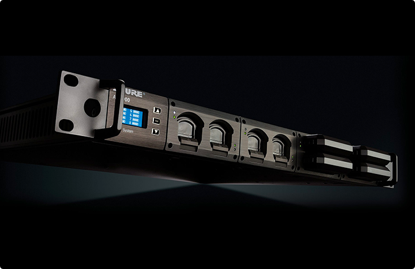 Frequency Diversity mode

Ensures seamless, uninterrupted audio for mission-critical transmitters in extreme RF settings.
Receives audio from a single source on 2 independent frequencies.
Uses signal from both frequencies to provide optimized audio on a single channel.
RF signal cascade connects up to 5 receivers using 1 RF signal source.
IEC in/out power ports enable daisy-chaining of AC power.
2 Ethernet ports allow convenient computer and ShowLink Access Point connection.
AES3 digital audio output can be used simultaneously with XLR and 1/4″ analog audio outputs.
ShowLink – Remote Control
Comprehensive real-time remote control of all transmitter parameters.

Remote gain adjustability: Remotely adjust a performers transmitter gain in real time.
Remote frequency change: Execute a synchronized frequency change with a linked receiver in a split second.
Remote RF Mute: Conserves power and RF spectrum.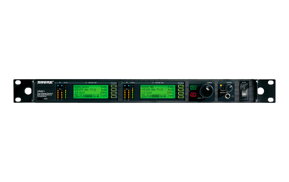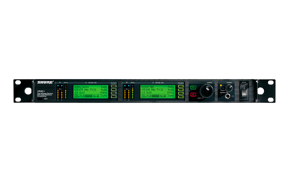 UHF-R
Bands Available: G1 | H4 | J5 | L3
2400 Selectable Frequencies Across 60 MHz Bandwidth
Track Tuning Filtering Technology
Networked Automatic Frequency Selection
Automatic Transmitter Setup (including Custom Group Upload)
Flash Memory to Store Six 60-channel Custom Frequency Groups
Shure Patented Audio Reference Companding
Multi-function Bit-mapped Backlit LCD
Built-in USB & Ethernet Network Compatibility
Remoteable Antennas
Shure Microprocessor-controlled Diversity
ULX-D
Bands Available: G50 | H50
Uncompromising Digital
Wireless Audio
24-bit/48 kHz digital audio that delivers incredibly clear and accurate reproduction of the source material
20 Hz/ 20 kHz frequency range with flat response
Greater than 120 dB dynamic range through the analog outputs
Built-in limiter circuitry prevents digital audio clipping from excessive signal levels.
130 dB dynamic range (typical) using Dante digital networked audio
60 dB of adjustable system gain easily accessible from the receiver front panel
No transmitter gain adjustments needed – optimized for any input source
Dante digital networked audio over Ethernet
Audio summing routes audio signal to multiple outputs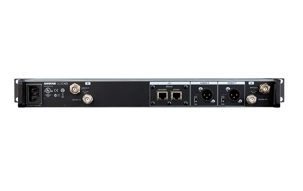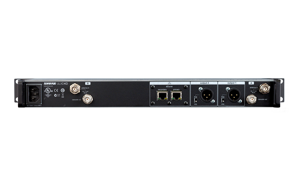 AES 256-bit encryption on all channels
Ethernet networking for streamlined setup across multiple receivers
AMX/Crestron control
AXT600 Axient Spectrum Manager compatibility
RF cascade ports, internal power supply, and dual Ethernet ports
Bodypack Frequency Diversity ensures uninterrupted audio for mission-critical applications
Extremely Efficient and Reliable RF Performance
Up to 72 MHz overall tuning range (region dependent)
Up to 17 active transmitters in one 6 MHz TV channel (22 on an 8 MHz TV channel)
High Density mode enables up to 47 active transmitters in one 6 MHz TV channel (63 in one 8 MHz TV channel), with no audio quality degradation
Rock-solid signal stability with no audio artifacts over the entire 100 meter line-of-sight range using standard supplied wave antennas
Selectable 1, 10, and 20 mW transmitter RF output power
Optimized scanning automatically finds, prioritizes, and selects the cleanest frequencies available
Provides ULX-D transmitters with unmatched 11+ hours of performance time
Transmitters and receivers display remaining battery life in hours and minutes accurate to within 15 minutes
AA backwards compatibility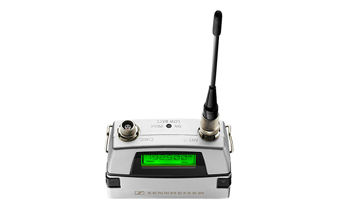 3732-II
Bands Available: B | L
Up to 184 MHz switching bandwidth
Digital AES 3 audio output with external word clock synchronisation
Integrated antenna splitter for daisy-chaining up to eight devices
Intuitive user interface with OLED display
Network integration via ethernet for use of the WSM software on Macs and PCs
DSP-based HiDyn plus and HDX expander
Transformer balanced audio outputs
Scanning function
Frequencies adjustable in steps of 5 kHz
Squelch setting displayed continously
Sennheiser Microphone Elements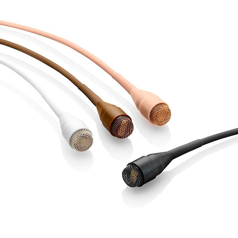 Omni-Directional
Colors Available: Black | Beige
Originally designed for use with wireless systems in theater, television and close-miked instrument applications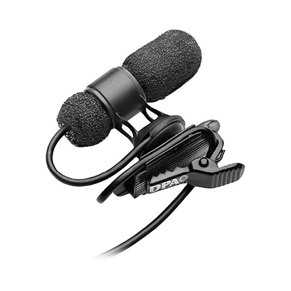 Cardioid
Colors Available: Black
It is acoustically pre-equalized, offering a 4 dB presence boost. This makes the voice more distinguishable and improves speech intelligibility.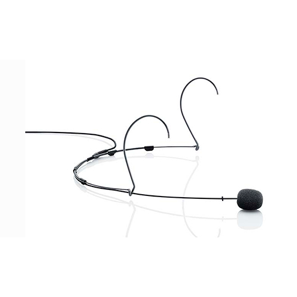 Directional
Colors Available: Beige
The classic d:fine 4088 Directional Headset Microphone is the industry standard in professional headset mics.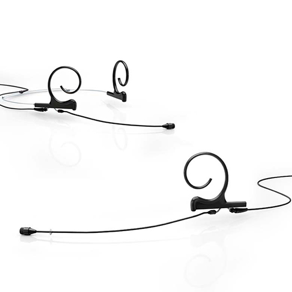 Omni-Directional
Colors Available: Black (Limited) | Beige
The d:fine 66 Headset Microphone combines the legendary sound of the 4066 Omnidirectional Capsule with the lightweight and flexible d:fine Headset system.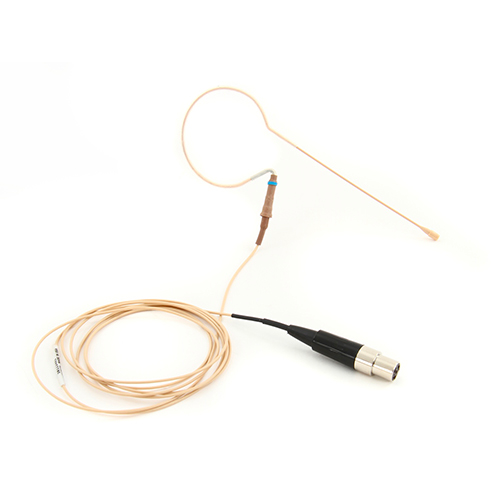 Omnidirectional: 20 Hz to 20 kHz |
Directional: 30 Hz to 15 kHz
The extremely low-profile E6 Earset delivers beautifully uncolored audio while rejecting surrounding noise and feedback. An ultra-miniature electret condenser element is held close to the mouth by a thin boom and comfortable earpad. Three sensitivity options cover general speaking applications through extremely powerful vocals.