Professional Wireless Steals The Spotlight At 20th Annual Latin GRAMMY Awards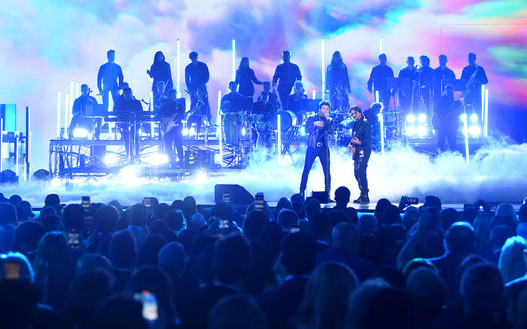 The 2019 Latin Grammy Awards recently celebrated 20 years of excellence in Latin Music at the Grand Garden Arena at the MGM Grand Hotel & Casino in Las Vegas. The event was co-hosted by three-time Latin GRAMMY Ricky Martin, Puerto Rican actor/singer Roselyn Sánchez and Spanish actor Paz Vega.
This was the 14th year that Univision requested Orlando, Florida-based Professional Wireless Systems (PWS) to provide RF coordination and equipment for the live show viewed by 8 million people around the world.
PWS' Aaron Morris handled lead RF engineer responsibilities providing RF coordination for 160 frequencies from 36 wireless microphone and 24 in-ear monitoring systems.
"The event featured a large stage located at the north end of the arena," explains Morris. "The stage was divided and treated like two stages (Stage A and Stage B), with two full sets of everything needed. Las Vegas has always been RF challenged but is more so after the auction and repack. It took a lot of preplanning to make sure that everything we needed would work."
The 36 wireless microphone systems were made up of seven Shure Axient AD4Q receivers G57 with 28 Shure AD1 body pack and AD2 handheld transmitters; five Shure Axient Analogue AXT 400 Receivers J5 along with 10 AXT100 body pack and AXT200 handheld transmitters; three Shure Axient Digital AD4Q receivers X55 with six ADX2 handheld transmitters and body packs and lastly, six Sennheiser EM600 wireless systems with eight transmitters and six handheld transmitters. In-ear monitoring was provided by 32 channels of Shure PSM1000s.
"We deployed a PSW DB16 multizone distribution system along with a Shure AXT630 Axient antenna distribution system to ensure flawless operation of wireless mic systems," adds Morris. "We used four sets of PWS PRZM RFoF (RF over fiber) for the remote antenna locations. Most of the antennas were low profile helicals with a few paddles on the downstage edges as fill to make sure there weren't any issues caused by the LED walls on stage."
PWS's Gary Trenda was also on site to handle intercoms, IFB and the necessary listen-only systems.
"Most of the production staff with more complex requirements were equipped with Riedel Bolero belt pack intercoms," explains Trenda. "We used 64 Bolero packs along with an Artist 64 frame, Luminex switches and 11 antennas which were used by stage managers, audio team, lighting department and creative team."
The broadcast team had a fiber-optic network in place, making it easier to tie the Bolero system into the existing fiber network and connect to different areas without issue.
In addition to Bolero, PWS also provided Radio Active Designs (RAD) UV-1G analog, wireless intercoms. The four RAD base stations offered multi-zone capability to the 24 technicians equipped with the RAD bodypacks.
"I like RAD because we have a ready-built rack that allows me to throw up two zones of transmit and four zones of receive extremely quickly," Trenda says. "The rack is a purpose-built PWS product loaded with the RAD bases and TX-8U transmitter combiner, PWS VC4R power supply, VIC multi-coupler and P812 splitter and we are good to go."
Trenda notes that they used several RAD VF-1 antennas and PWS helical antennas to ensure coverage for RAD users.
"With all of the recent changes in the RF environment, band planning is critical," Morris concludes. "Gary and I worked together on an overall band plan to ensure an uneventful show – which is really what you want when dealing with RF, especially for something as notable as the 20th Annual Latin Grammy Awards."