Professional Wireless Teams Up on Latin GRAMMY Awards Show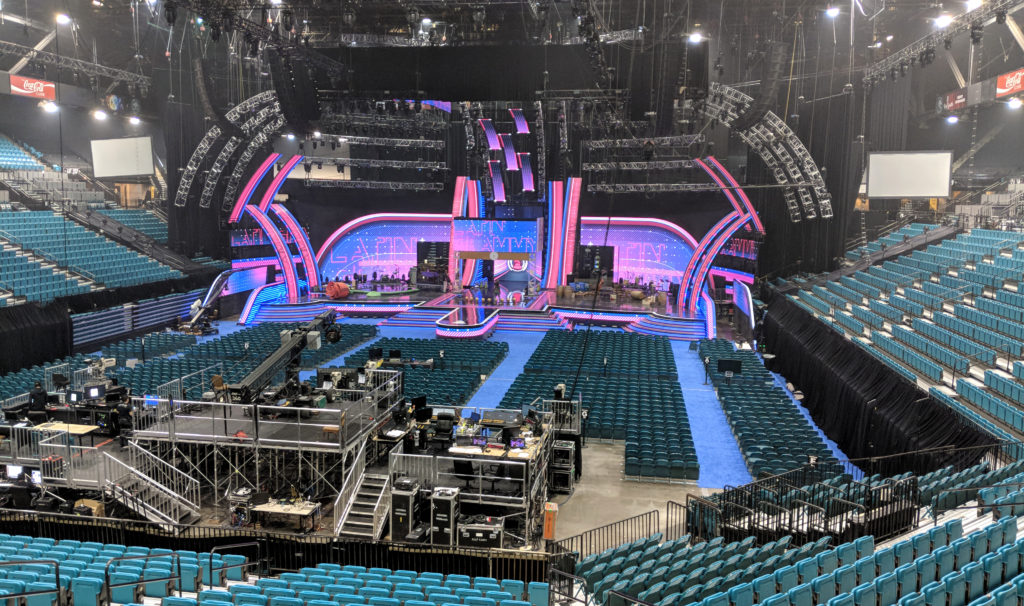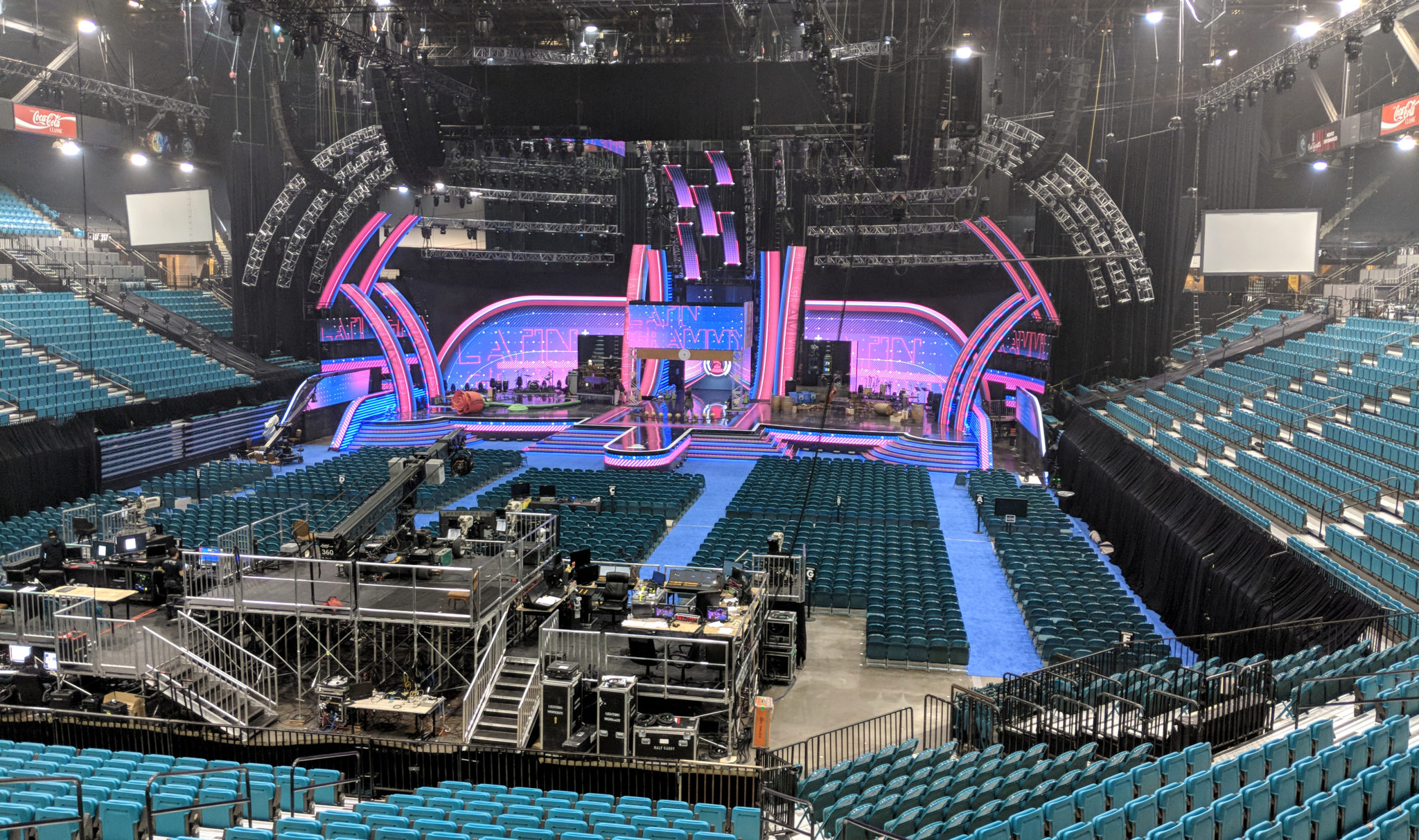 Las Vegas, NV (December 2017) – The 18th Annual Latin GRAMMY Awards is one of the biggest nights in Latin music. Broadcast on the Univision Network, the 2017 show was recently hosted by Jaime Camil and Roselyn Sanchez at the Grand Garden Arena at the MGM Grand Hotel & Casino in Las Vegas.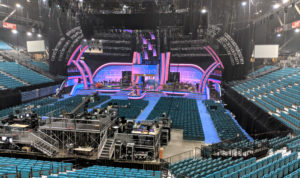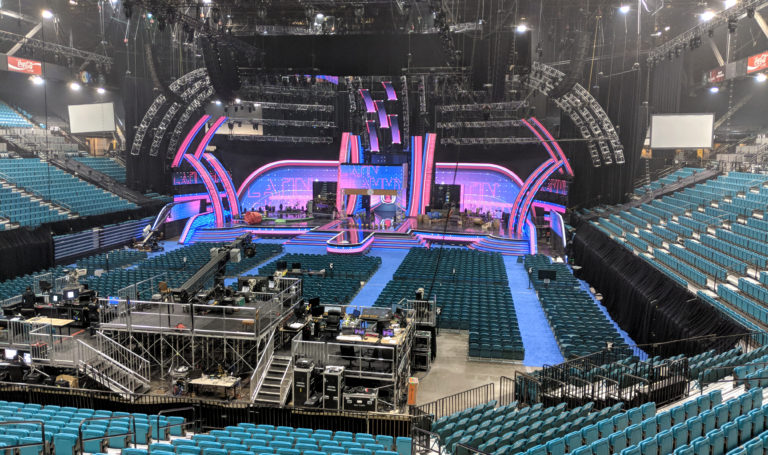 Since 2005 Univision has tapped Orlando, Florida-based Professional Wireless Systems (PWS) to provide RF coordination and equipment for the live show viewed by 8 million people around the world – and this year was no different.
"RF coordination in Las Vegas is always difficult — coordination for an award show the size and scope of the Latin Grammys is truly a challenge," explains James Stoffo, lead RF coordinator for the show. "We start weeks in advance, planning everything down to the last channel to ensure the show goes off without a hitch, it was the smoothest Latin Grammys I have ever worked thanks to the outstanding RF team and technical management by Univision's Mike Karsch."
PWS provided more than 250 channels of wireless systems including Shure Digital Axient, Sennheiser, and Audio-Technica wireless microphones, 28 channels of Shure PSM-1000 in-ear monitor systems, along with Radio Active Design UV-1G and Reidel Bolero wireless intercoms.
In addition to Stoffo, PWS provided RF Intercom Technician Gary Trenda to manage more than 80 users on wireless intercom systems. RF Technician Jason Lambert was responsible for system integration between both inside and outside of the venue, while Jordan Smith managed distribution of all the wireless intercom and related equipment throughout the event.
Because of the scope of the awards show — which had crew working throughout the arena, in multiple backstage areas, and in a parking structure next to the arena where the Band carts were setup – Trenda was ultimately responsible for 100 different intercom related systems. Located on the concourse level of the arena, he manned eight RAD UV-1G base stations with 50 RAD packs as well as a Riedel Bolero intercom system and a Telex BTR intercom system deployed for an additional 30 users. There were also sixteen "listen-only" intercom packs and eight Comtek IFB systems utilized by crew and on-air talent.
"The intercom syst
ems were used across four coverage zones," explains Trenda. "Because the RAD base stations minimize their footprint in the UHF spectrum and the bodypacks transmit in the VHF range, we used as many of the RADs as we could. It is the most spectrally efficient UHF intercom product and very straightforward to deploy."
This was PWS's first time out with the Riedel Bolero wireless intercom system. The new system operates in the 1.9 GHz band and was utilized by the creative directors and floor managers working in the green rooms and productions spaces. Trenda adds, "The Bolero system integrated seamlessly with the Riedel wired intercom system brought in for the show, making its use very convenient. The users also liked that we could make changes to their pack settings remotely, which is a nice feature."
Wireless signal distribution was handled by PWS DB Series multi-couplers, GX Series combiners and RAD TX series combiners. PWS helical and domed helical, and the VF-1 antennas were also in use.
For the outside pre-show red carpet event, Univision enlisted Frequency Coordination Group headed up by Brooks Schroeder and Chad Meise. Their team deployed Clear Com Delta Eclipse Frame and FreeSpeak II, which was used in 1.9 GHz on the red carpet. It was also utilized in 2.4 GHz for the pre-show stand up position backstage to avoid interference with the main shows Bolero system. Lectrosonics IFB and Shure UHF-R kits in multiple band splits were also used, all supplied by Univision.
"During an awards show of this size, it is key that everyone is in constant communication," concludes Jim Van Winkle, general manager of PWS. "With this much wireless in play, it required a knowledgeable and experienced team. We are fortunate to have this team in place that has the level of expertise that these events require. Once again it was an incredibly successful event."
###

Hi-Res Photo 1: http://bit.ly/2kdLip4
Caption: Professional Wireless Systems (PWS) provided RF coordination and equipment for the live show held at the Grand Garden Arena at MGM Grand in Las Vegas.
Hi-Res Photo 2: http://bit.ly/2jcbfsO
Caption: The Professional Wireless RF Team For the 18th Latin GRAMMY Awards (left-right): Jordan Smith, Dave Nichols, Jason Lambert, Tim Kepner, James Stoffo (missing: Gary Trenda).
About Professional Wireless Systems (PWS)
Professional Wireless Systems (PWS) leads the industry in the supply and support of high-end wireless sound systems for live and broadcast events, including Super Bowl, Coachella, the Latin Grammys, as well as several events for the NBA and NCAA. PWS specializes in developing new gear and delivering advanced solutions for events and productions that continue to increase their demand for and use of RF equipment. A wholly owned subsidiary of new Jersey-based Masque Sound, more information about PWS is available at professionalwireless.com.
Media Contact:
Julie McLean Clark
JMC Communications
O 269 262 4842
M 269 240 3175
juliemcleanclark@gmail.com