Dreamforce Delivers With Professional Wireless Frequency Coordination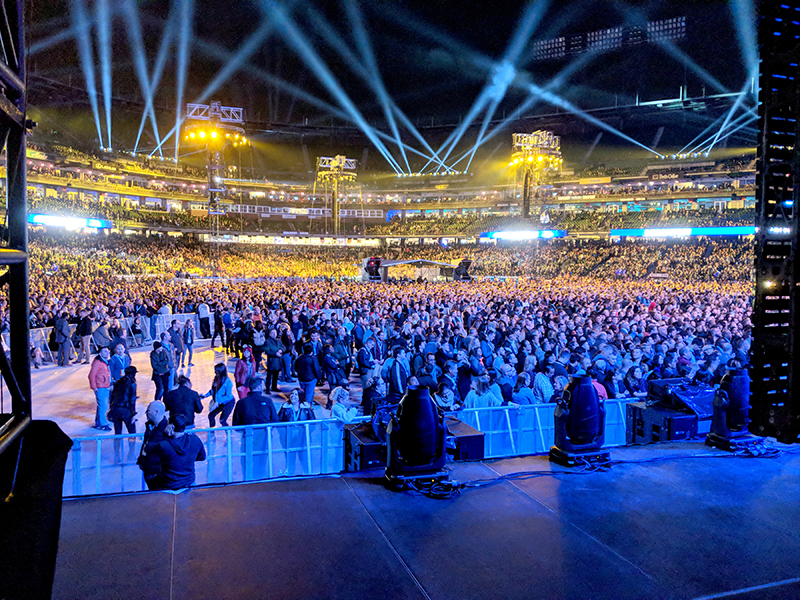 Dreamforce, Salesforce's tech conference that recently drew more than 170,000 people to San Francisco, is arguably the largest convention hosted at the Moscone Center. The event takes over the entirety of the Moscone North, South and West buildings, along with almost all available hotel and conferencing space in the neighborhood.
The scope of the event – of which many parts are videotaped, live streamed, and broadcast – necessitated the use of a tremendous amount of wireless equipment including microphones, IEMs, IFBs, and wireless intercom. Because San Francisco has a reputation for being a challenging RF environment, the conference planners called on Orlando-based Professional Wireless Systems (PWS) to provide wireless frequency coordination for the multi-day event. This year there were six film crews covering the convention center halls and other buildings in addition to all the wireless RF devices that were in use for each show segment in the Moscone Center and hotels.
"We decided to coordinate the film crews first, since they would be roaming throughout every room and building, and coordinated everything else around them," explains Gary Trenda, PWS Lead Frequency Coordinator for the event. "Anyone who wanted to use wireless devices had to clear their frequencies through us. We had nine coordinators onsite for 10 days. This was a large-scale coordination effort – exactly what Professional Wireless excels at."
For those not familiar with San Francisco, there are 23 TV stations broadcasting in the downtown area, making available RF bandwidth very limited, especially given the large number of wireless frequencies required for an event of this type. Some of the halls had three different floors, with multiple systems set up on each floor. Trenda's team coordinated over 200 frequencies for the Moscone West building alone. Similar quantities were deployed throughout the other venues.
In addition, Dreamforce also hosted Dreamfest, a concert held at San Francisco's AT&T Park, that headlined Alicia Keyes and Lenny Kravitz and drew more than 40,000 Salesforce Trailblazers. PWS's Ryan Stotz was dedicated to RF coordination at the venue which included similar challenges to the conference. He assigned frequencies to all the onsite film, audio, video and production crews, who rely upon wireless products to produce a successful event.
"It is becoming more and more important for events of this scale, especially in larger cities, to have the expertise on hand to make sure everything goes off without a hitch," concludes Trenda. "Professional Wireless Systems is a leader in event wireless technology. The complexity of this event tells me that frequency coordination services will be more in demand than ever, especially as the results of the latest 600 MHz spectrum auction take effect."
###
Dowload hi-res photo: http://bit.ly/2D4WeB5
Photo Caption: PWS also provided RF coordination for Dreamfest, a concert held at San Francisco's AT&T Park, that headlined Alicia Keyes and Lenny Kravitz and drew more than 40,000 Salesforce Trailblazers.