Professional Wireless Systems Rolls Out RF Wireless Product Solutions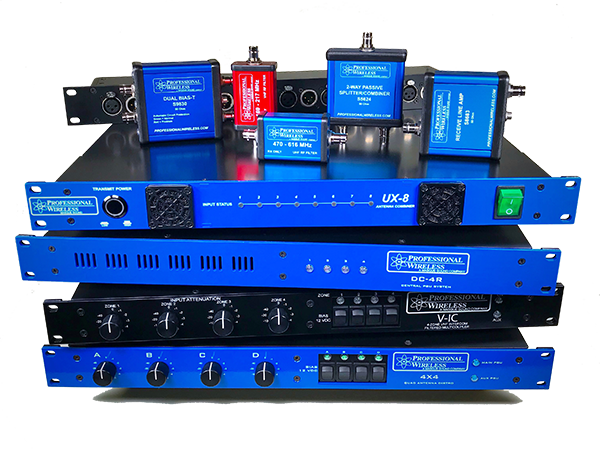 Las Vegas, NV (April 2018) – Orlando, FL-based Professional Wireless Systems (PWS) has announced seven new products designed to simplify the deployment of wireless systems.

For more than 25 years PWS has offered consulting and broadcast coordination services while also being a premier manufacturer and supplier of wireless products designed by experts in the field that understand what features are needed for more reliable systems that are easy to deploy.

The new PWS 4X4 provides quad antenna distribution for the Shure Axient Digital Quadversity wireless microphone system. The unit can handle up to four receivers and features 470-616 MHz filtering, bias power control/status LEDs for each input, rotary attenuators, and dual power inputs that allow for redundant power.

The company has also debuted the V-IC, 4-zone intercom multicoupler for the VHF range – ideal for use with Radio Active Designs UV-1G wireless intercom systems. The unit is optimized for use in the VHF frequency range, filtered for 179-216 MHz. Four antenna inputs are combined, filtered and amplified to unity gain. Eight outputs supply signal for up to eight UV-1G base stations.

The P-812S houses eight independent passive two-way RF splitters, capable of handling high-power transmit signals. The P-812S enables 2-zone transmission for up to four UV-1G base stations. The 1RU unit is far more convenient and more rugged than traditional methods.

The UX-8 is an updated version of the popular GX-8 transmit combiner. The refreshed unit removes the old frequency screen and replaces it with input status LEDs. The rear power connector is now an XLR5, which offers a more secure, locking connection. Same great performance at a lower price.

The DC-4R is a power supply solution that powers up to four Radio Active Design bases or chargers in an easy-to-use 1RU package. Features include shortened power leads to reduce rack clutter and front panel status LEDs for each PSU.

The all new I/O-8 is a rack-mounted 4-wire to XLR patch panel. Housed in a 1RU, rugged all-metal chassis, the I/O-8 supports XLR patching for eight 4-wire ports. The pin-out is compatible with UV-1G base stations and Clear-Com Eclipse frames.

PWS inline RF filters for UHF and VHF have also been updated to work in a post-auction wireless environment. 169-217 MHz and 470-616 MHz models are available now.

About Professional Wireless Systems (PWS)
Professional Wireless Systems (PWS) leads the industry in the supply and support of high-end wireless sound systems for live and broadcast events, including Super Bowl, Coachella, the Latin Grammys, as well as several events for the NBA and NCAA. PWS specializes in developing new gear and delivering advanced solutions for events and productions that continue to increase their demand for and use of RF equipment. A wholly owned subsidiary of new Jersey-based Masque Sound, more information about PWS is available at professionalwireless.com.
Media Contact:
Julie McLean Clark
JMC Communications
O 269 262 4842
M 269 240 3175
juliemcleanclark@gmail.com