Clarity In The Air: Professional Wireless Systems Tames The RF Landscape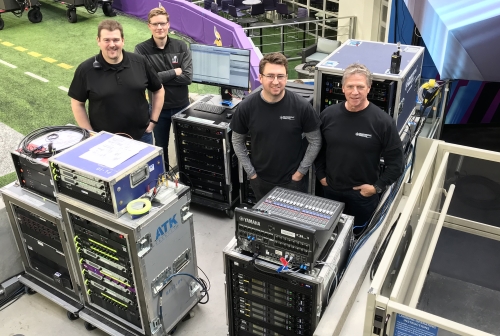 It seems a matter of certainty these days that we all will live, breathe, and die in a wireless world.
Especially here in the realm of professional audio, where we've become accustomed – and in many cases dependent – upon RF microphones, musical instruments, in-ear monitors, production intercoms, and even systems dedicated to wirelessly transmitting console feeds to mains and delay towers.
There's a price to pay for this convenience, of course, and it's rooted not so much in dollars as it is in the time, talent, and resources it takes to successfully navigate within the increasingly congested and shrinking frequency spectrum supporting our cord-free existence.
It's precisely within this sphere that Orlando-based Professional Wireless Systems (PWS) has made a stand, providing everything from frequency coordination for some of the biggest names and events in the music business to turnkey rental rigs and proprietary hardware for broadcasters that include ESPN and Fox.
PWS came to life in 1992 when James Stoffo launched the business from his home, offering both consulting and coordination services. Quickly gaining a reputation for bringing coherent and manageable systems to tough and unruly environments, PWS grew to become the wireless go-to source for live and broadcast events.
Today, as a wholly-owned subsidiary of Masque Sound, the company continues forward in the footsteps Stoffo left, delivering system packages and the necessary hardware for demanding applications running the gamut from corporate events to the Super Bowl.
"Our in-house Orlando staff includes engineers and techs, plus those we need to manage our warehouse and administrative efforts," PWS general manager Jim Van Winkle relates while sitting down to be interviewed for this article during a break on a recent project, along with on-site RF engineers Cameron Stuckey, Gary Trenda, and his son Justin Van Winkle, who serves as production manager of PWS.
"Whenever we initially approach a project, we start out in-house and branch out from there. We have a top-notch pool of freelancers we draw from around the country, all of whom work with us quite regularly, and like the rest of the group, are really just part of the family."
PWS also generates revenue via the sales of pro products from Shure, Sennheiser, Lectrosonics, RAD, Clear-Com, and many others. As dealers of these brands, they buy in volume and pass the savings along to clients. The manufacture and sales of its own proprietary products adds to gross earnings further, while proceeds from equipment rentals, frequency coordination services, shows, and install work enhance the bottom line as well.
PWS also offers ready-to-use rental packages that include wireless gear from leading manufacturers as well as the company's own specialized components.
Proprietary products engineered and manufactured by PWS itself include the company's widely-used helical and domed helical antennas, low-loss antenna cables, antenna system components such as the GX-Series of antenna combiners, multicoupler/distros for both intercom and microphones, RF filters, and line splitter/combiners.
"We began developing our own products based upon our experiences on shows, installs, and via the collective knowledge base that informs our company," Justin Van Winkle notes, looking back on the PWS historical timeline. "Self-designed and engineered by us for us, our products became useable tools for other people too. When we first started making our custom boxes, people tended to enlist our services because we were the ones who knew how to use them. Once these products were refined over the years, we were able to turn them into a full catalog of equipment to help clients build their own distributed antenna systems."
Challenging Times
The segment of the professional audio that PWS inhabits was built around frequency coordination, antenna distribution systems, and rights as secondary users of spectrum utilized by broadcast TV.
Against this backdrop, the company's role has expanded exponentially over the last 10 years thanks in no small part to actions taken by the FCC in the form of spectrum auctions. The most recent was the "incentive auction," which sold off the rights to nearly the entire 600 MHz band (the 608-698 MHz spectrum, which includes UHF TV channels 36 through 51), kicking out wireless microphone/in-ear monitor and intercom system users in the process.
"Right now we are in the early days of transition out of most of the 600 MHz spectrum that has been available to us to operate wireless mics, IEMs, and similar systems," Gary Trenda explains. "The FCC laid plans for a three-year transition period slated to be complete by the end of July 2020, but there are already new broadband data systems operating within the spectrum as I speak.
"As we continue to move forward, obviously the largest challenge we'll face is going to be congestion," he continues. "At the end of the transition, some cities will only have two vacant TV stations left for us to operate in as secondary users. A single TV station occupies 6 MHz of spectrum, so the idea of trying to run some of the shows we do within the confines of 12 MHz is going to be quite daunting. In the past, we've used up to 10 times that amount of spectrum for all the wireless systems required."
As an antidote to this loss of more and more spectrum, PWS engineers have begun deploying equipment that is more spectrally efficient, thereby giving themselves the capability to fit more devices within a significantly smaller wireless footprint. To tightly tune and optimize reception, RF filtering also plays a hugely important role within the company's current plans to cope with ongoing changes, as does new gear that offers more flexibility.
"Prior to this latest loss of spectrum, we typically used a common core of UHF-based equipment that coexisted peacefully among TV channels," Trenda adds. "We could more easily cover the needs of a broad spectrum of shows with UHF band equipment. Now, frequency coordination and bandwidth planning have become much more critical because we have to specify gear in multiple frequency bands. This work needs to be done well in advance, and there will only be certain frequency ranges of equipment that will operate in certain cities.
"Concurrently, we're showing up on-site with a new generation of components that are highly versatile. Some of these systems used to operate solely within the UHF bands, but now they're even offering VHF alternatives, something most of us would not have considered using previously. Similarly, intercom systems that operate in the 1.9 or 2.4 GHz ranges are being used increasingly."
Making It Flow
PWS is also considering how it approaches its workflow more than ever before. In the pre-600 MHz auction world, we once knew, dealing with a high number of transmitters in large venues was a bit simpler. These environments could be dealt with by increasing the power and channel count.
"More power is not necessarily better anymore," Jim Van Winkle points out. "This is especially true at a corporate level, where we are deploying hundreds of frequencies through a convention center or hotel with a general session area and several breakout rooms. In these cases, we're utilizing lower power transmitters now – as low as 1 milliwatt (mW) – with more localized antennas.
A perspective of "RF World" established by the PWS team for the Latin Grammys at the MGM Grand in Las Vegas.
"Given that frequencies are more limited than ever, we have to share them throughout a given environment between different rooms. It's not a one-size-fits-all approach these days: We can use the same frequencies in one or two rooms on the same floor, or different floors, all with low power transmission to steer clear of interference. That's a big change in how we approach our workflow for sure, and sets the tone for future productions."
According to Jim Van Winkle, the same workflow approach now carries over to large studios owned by broadcasters like the Golf Channel or NBC Sports, where PWS has setup distributed antenna systems that let them mic-up talent in one place with a single microphone, and then that person can travel to several different studios throughout the building without ever changing his or her mic.
Outside of the corporate and broadcast worlds, many know PWS for its high-profile work at awards shows like the Latin Grammys and the Super Bowl. In these kinds of applications where the whole world or at least a good portion of it is watching and listening, change is just as widespread as everywhere else.
"In comparison to last year, this year's Super Bowl halftime show was placed on a much larger footprint," Cameron Stuckey reveals. "So to provide seamless coverage, we implemented multiple zones of discrete antenna systems backed by fiber optic transport for the first time. This represents another change in our workflow strategy. While we obtained the same coverage as we would have using copper-based systems in the past, we kept our antennas closer in the different performance zones rather than having an antenna based further away covering a much larger area.
"Although the spectrum available to us is shrinking, the areas of coverage we're asked to provide are growing. Fiber optic transport is a natural in these situations because there is zero line loss. With fiber, we take an electromagnetic wave – which is RF energy – convert it to light, and then once we arrive at our destination, we convert it back to RF. Our signal path is as small as it has ever been as a result, even if we are transmitting to the opposite end of a stadium."
Handy Tool
Finally, viewed as a must-have to help sort through the complexities of current and future wireless operations, PWS has turned to specialized software and the power of the computer to reduce the amount of time required for frequency coordination.
As the creators of IAS (Intermodulation Analysis System), the company provides a tool with the ability to look up local television frequencies in use in areas around the country, and produce a list of coordinated frequencies across multiple zones. IAS also includes a database of equipment from most major wireless manufacturers.
"With IAS, once an engineer or tech enters their current location and an inventory of their gear, the software will perform all the calculations necessary to produce a list of coordinated frequencies," Jim Van Winkle says on a closing note. "These frequencies will be free from overlapping digital TV signals and intermodulation. Compared to the trial-and-error methods of the past, IAS saves a huge amount of time and effort.
"As we find ourselves working in environments defined by useable spectrum as well as a minefield of other challenges and unknowns, IAS is something that stands out with clarity amid the confusion. Right now, that's a comforting notion, and a big step toward helping to provide our clients with solid, trouble-free wireless performance for years to come."
By Greg DeTogne