Tackling RF For The Super Bowl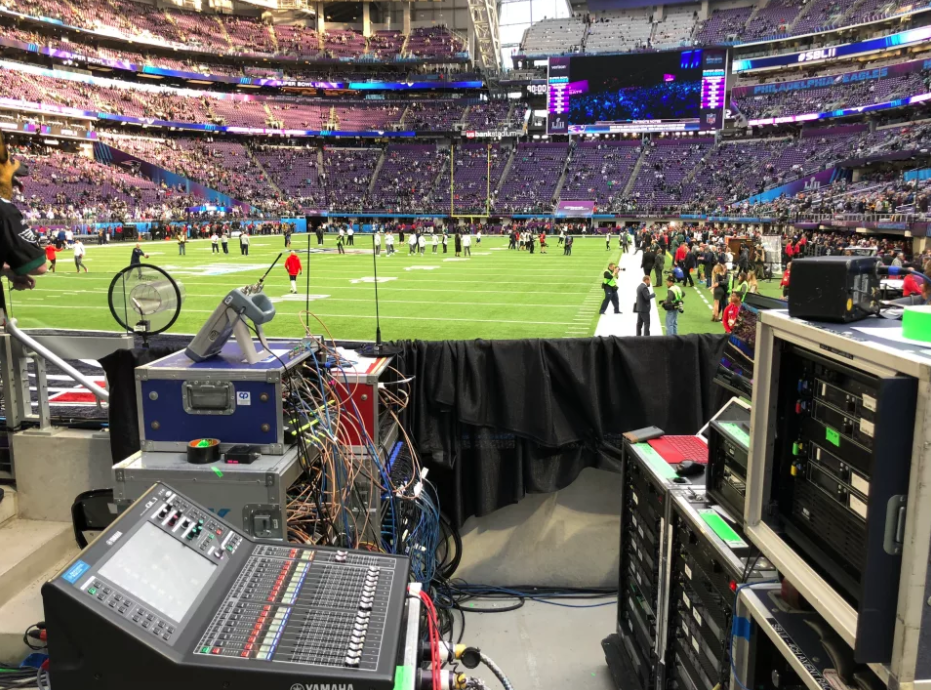 Minneapolis, MN—For the 21st year in a row, ATK Audiotek tapped Orlando-based Professional Wireless Systems (PWS) to manage wireless microphone and IEM systems deployed for the pre-game, halftime and post-game Super Bowl entertainment, along with the wireless microphones for the referees. And as they have done in previous years, PWS began its planning back in early October.
"Long before people start thinking about who will compete in the Super Bowl, we are planning for it," explains Jim Van Winkle, general manager, PWS. "The ticket to our continued success is being prepared. We have contingency plans for every wireless system being used for the entertainment portions of the event. When you know that more than 100 million people will be watching the halftime show, you make sure it goes off without a hitch."
This year, it all started with a site visit to U.S. Bank Stadium in Minneapolis, MN. Van Winkle and Gary Trenda, lead RF technician for PWS, made the trip along with ATK Versacom and ATK Audiotek team members Paul Liszewski, Brett Valasek, Kirk Powell, George Schwartz and Matt Campisi. The site visit allowed them to scope out the venue, providing the basic information Van Winkle and Trenda needed to design the game-day wireless system.
"At that time, we don't have any specifics on the entertainment, but it's an important part of the design process," adds Van Winkle. "We like to see where 'RF World' will be located, scout out locations for antennas and cabling, and get a handle on the general layout of the site."
Unlike previous years, PWS was told they would be setting up camp in the southwest corner of the end zone, a big difference from their traditional position around the 20-yard line. This put an entirely new spin on the system design, particularly from the standpoint of wireless coverage.
Van Winkle explains, "This new location meant that the cable runs to our helical antennas would be almost twice as long. It was clear we would have to do something different to ensure the wireless systems in use on the field and performance areas were covered effectively."
After some consideration, Van Winkle and Trenda decided to deploy a Wisycom RF-over-fiber system along with a series of PWS Helical Antennas, allowing for longer runs of fiber than traditional copper coax. The Wisycom units were used for both receive and transmit applications, which allowed for additional zones of receive antennas, along with additional IEM transmit locations. The Wisycom unit provides a wideband optical link for up to four RF channels multiplexed on a single fiber.
"It was something new, but we were confident this would provide the reliability that Super Bowl wireless systems require. Not only are there a lot of moving parts between pre-game, National Anthem, halftime and post-game entertainment, but we are responsible for the referees' microphones as well. It's extremely important that everything works as expected," Van Winkle adds.
With the antenna situation resolved and the announcement of Justin Timberlake as the halftime entertainer, the real work of designing the system began.
"As the lead RF technician for PWS, one of my jobs is to work with NFL frequency coordinator Karl Voss and his team of game day frequency coordinators (GDCs) to request and then manage the RF frequencies we need for our production responsibilities," adds Trenda. "During the first site visit, we do a frequency scan to get a clear picture of the local RF environment, and I'll check with the stadium A/V team to see what channels they're using for in-house wireless systems so I know what to avoid. This year my prep also included research to see when Minneapolis was going to be impacted by the recent 600 MHz spectrum auction, which would have reduced the available RF spectrum significantly. Fortunately, those changes had not taken place yet."
From there, Van Winkle and Trenda began to map out their plan, working closely with ATK Audiotek as specific wireless needs for pre-game, halftime and post-game entertainment came to light. As soon as they had a clear idea of their frequency needs, Trenda reached out to Voss and the GDC team to request and receive frequencies assigned for their use.
"Voss and his team have the truly difficult job of tracking and managing thousands of frequencies while accounting for interference from sources outside of the stadium as well," Trenda adds. "They do a great job of preventing interference and handling any unexpected surprises."
Once the full extent of the halftime show was unveiled—which included Justin Timberlake and his performers starting in the Delta Club off-field, performing on four stages on the field, and then ending in the opposite stands (also off-field)—it was clear that RF coverage would have to be rock-solid.
"Up until the truck leaves, Gary works diligently with Voss and his team to make sure we have the frequencies we need ahead of time, so we can tell ATK what equipment to put on the truck," Van Winkle explains. "Anything can and sometimes does change until that truck pulls out of the parking lot. Once it does? Then our system components are finalized."
This year they deployed 12 channels of Shure Axient digital microphones, four channels of Axient analog microphones, two channels of Sennheiser Digital microphones, and 12 Shure PSM 1000 in-ear mixes to more than 50 in-ear packs.
"The Axient Digital microphone systems provide the audio clarity necessary while also being extremely flexible, which is imperative in an RF environment as crowded as the Super Bowl," explains Trenda. "The Quadversity feature allows placement of two pairs of antennas in different zones or doubling antennas in one zone, improving RF signal-to-noise in challenging environments—which this most definitely is."
In addition, the Axient Digital system's frequency diversity capability ensures that a secondary frequency is immediately available as a backup if the primary frequency degrades. Both the Axient and PSM 1000 systems are compatible with Shure's Wireless Workbench control software with RF spectrum and timeline plotting, along with live monitoring, which also comes in handy during game day.
"One of PWS RF technician Cameron Stuckey's main roles during halftime is operating Wireless Workbench and monitoring alerts," adds Van Winkle. "We have a plan for every alert possible—if Cameron sees even a hint of a problem, we have a plan ready to resolve it."
With as many moving parts as the planning process has, when does planning stop and implementation begin? The PWS crew showed up more than a week before game day to set up all of the gear, making sure it operated on the assigned frequencies. Then a real RF showdown happened the Thursday before the Super Bowl broadcast.
"The main unknown is the other wireless operators on site," says Trenda. "In theory, they have also been working with Voss and the GDCs, which should mean that when everyone turns on their RF systems, it will be smooth sailing. So the Thursday prior to game day, we try to get everyone in the stadium to turn on all their wireless systems and see what happens. We fondly refer to this process as RF War Games."
This is an opportunity for the PWS team to make adjustments, modify gear placement and rework anything else that needs to be corrected prior to the game.
"We see how it works together and then make any necessary adjustments," Trenda concludes. "This is the most congested wireless environment we work in and there's always the possibility someone could accidentally start transmitting on the wrong frequency, which can create wireless chaos. You never know. The key is to make sure all your gear works well with the other systems, and to plan for the elements you do know about. It's a group effort."
With the amount of planning and testing that's done prior to the game, along with all the contingency plans in place, one might think that the Super Bowl itself is a letdown, but far from it.
"This is where the rubber meets the road. We're not on eggshells, but there is a definite sigh of relief when we strike the system after the Lombardi Trophy ceremony," adds Van Winkle. "So far, wireless systems can't be completely locked down—there is always an unknown out there that can ruin the best-laid plans. Fortunately, it rarely happens. This Super Bowl was one of our best ever. Gary did a terrific job and I knew he was happy with the results when he finally smiled when Timberlake ended up in the stands at the end of his performance. Gary was backed by Cameron and our other RF tech, Deb Munini, who was responsible for deploying gear to talent. I'm looking forward to continuing our partnership with ATK Audiotek for next year's game at Mercedes-Benz Stadium in Atlanta."
By Julie Clark